6 Tips to Speed Up Firefox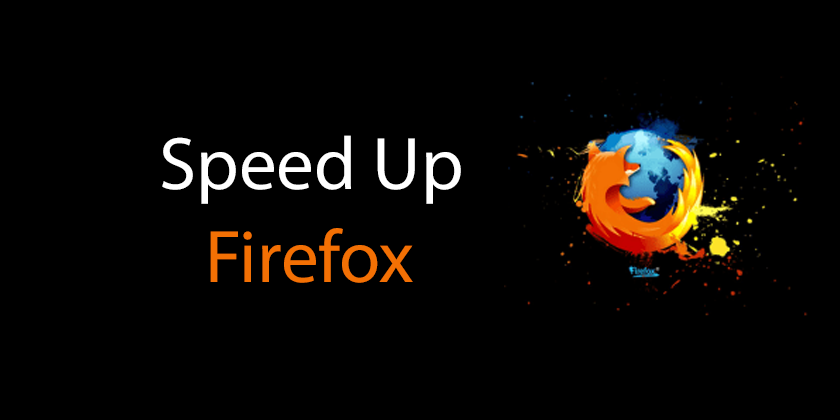 Firefox is a one of popular browser just like Chrome, Safari and Edge. If you are using Firefox, you might have experienced with Firefox being slow when other browsers are still fast. Sometimes, the more you use Firefox, the slower it. In this tutorial we're going to discuss about the methods to speed up Firefox. Let's get started.
First Steps When Firefox Is Slow
Before going for a difficult methods, there are few things you should consider. There is a chance to speed up Firefox just after you do them. The first thing is you need to make sure update Firefox to its latest version. For it, click on the three-line menu at the top-right of the screen and then navigate to Help and About Firefox. If there are temporary bugs that causes for slow down Firefox, updating to the latest version will speed up Firefox.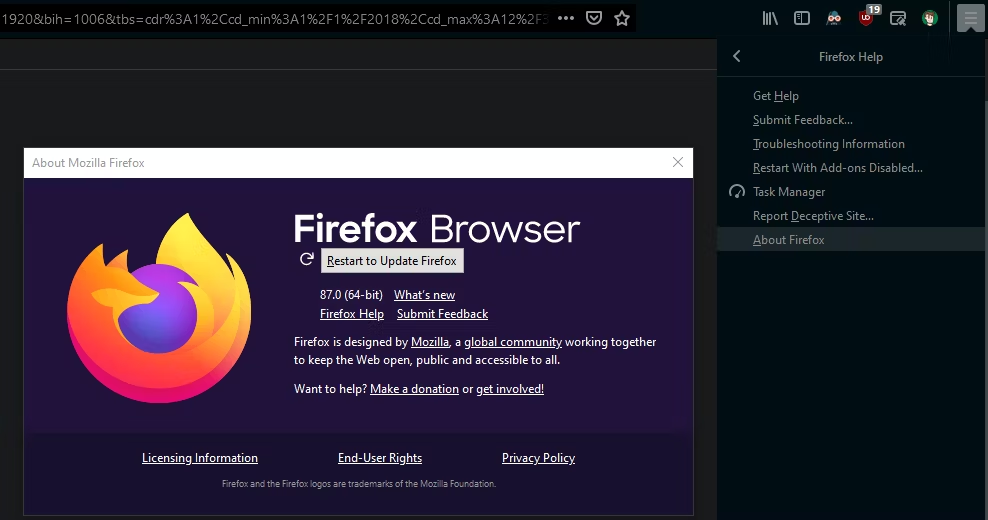 If you let your browser to run for days without closing, it may slow down Firefox. Just try to restart and it may speed up Firefox. If still you have issues with browser performances, follow below troubleshooting methods.
1. Firefox Is Slow to Load
There are some settings that speed up Firefox. Firstly open Firefox and click on the menu button in the top-right of the screen. Then select Options. You can do the same step by entering about:preferences in the address bar. Select General tab and uncheck the box named Always check if Firefox is your default browser . Then it won't ask you again to change default browser every time it was opened.
Next uncheck the box named Restore previous session. It will be at the top of the list. Firefox will prevent from loading the tabs that you have opened when you use it at the last time. If there are many tabs opened and restoring your past sessions can slow down Firefox also.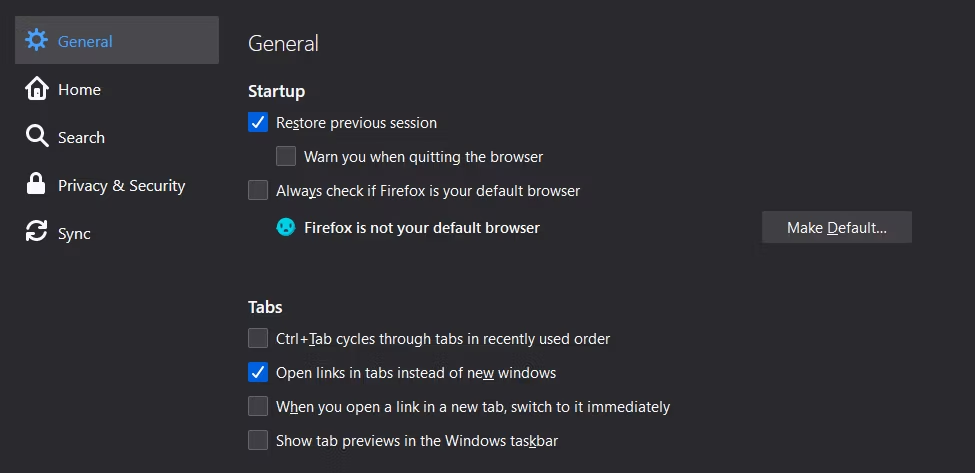 Next select the Home tab. Navigate to New Windows and Tabs. Then open the top dropdown box and set it to Blank Page. When you launch browser, it will always open an instant blank tab.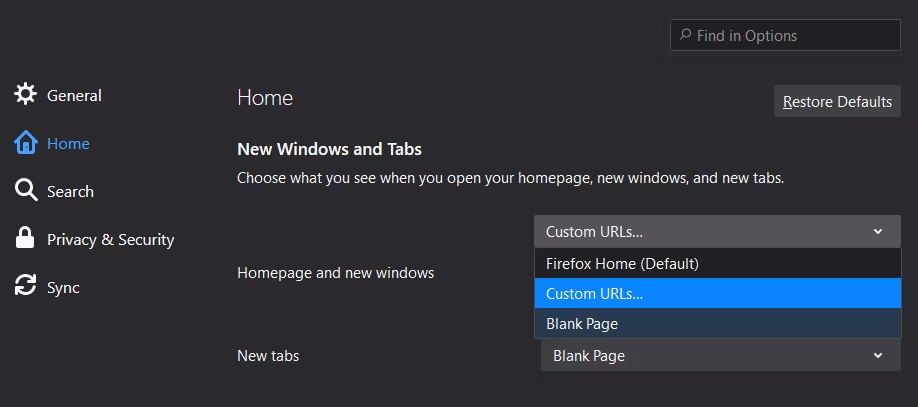 2. Firefox Uses Too Much CPU or RAM
If Firefox uses too much CPU or / RAM, it can be the reason of slowing down browser. You can make Firefox run without add-ons or plugins by using Safe Mode. Firstly open Firefox menu and then go to Help and Restart With Add-ons Disabled option. It will restart and show top options, Start in Safe Mode and Refresh Firefox. Choose Start in Safe Mode option. If you can't make this because it is running so poorly, then hold on Shift button while starting Firefox.
If you notice Firefox runs faster in Safe Mode, the reason must be either add-ons or plugins. If you are willing to know which one causes the issue among both of them, here is a way to check it also. Go to Firefox menu and then Help > Task Manager. Firefox's built-in task manager will show you all processes running in Firefox and the memory amount they're using. When you are using Firefox, make this tab viable. Then you can get some idea about the add-ons which uses most memory. Firefox Task Manager is just like Windows Task Manager.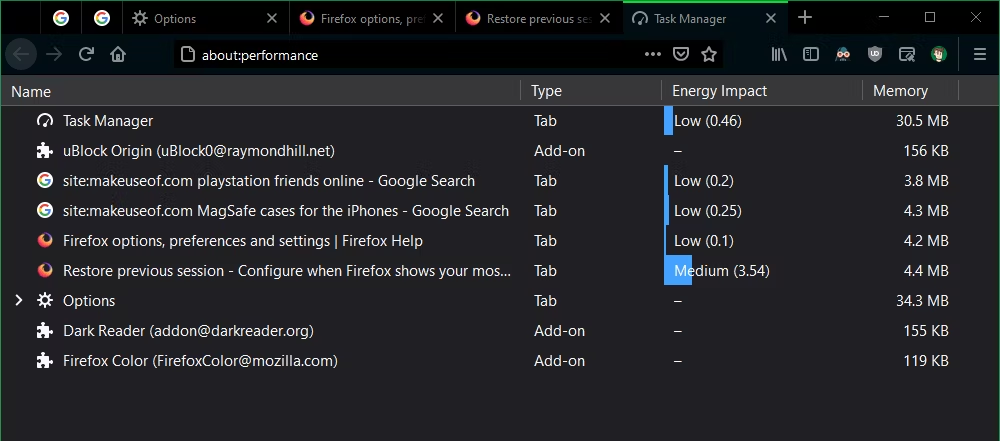 After find out the add-ons which use most memory, you can disable them and check whether Firefox runs better without them or not. Open the menu and select Add-ons and look at your installed extensions. Disable the slider and stop them from running. You can disable all of them and enable one by one to find out the culprit one. If you find it, then clicks on three-dot menu and select Remove. It will be completely removed from your browser.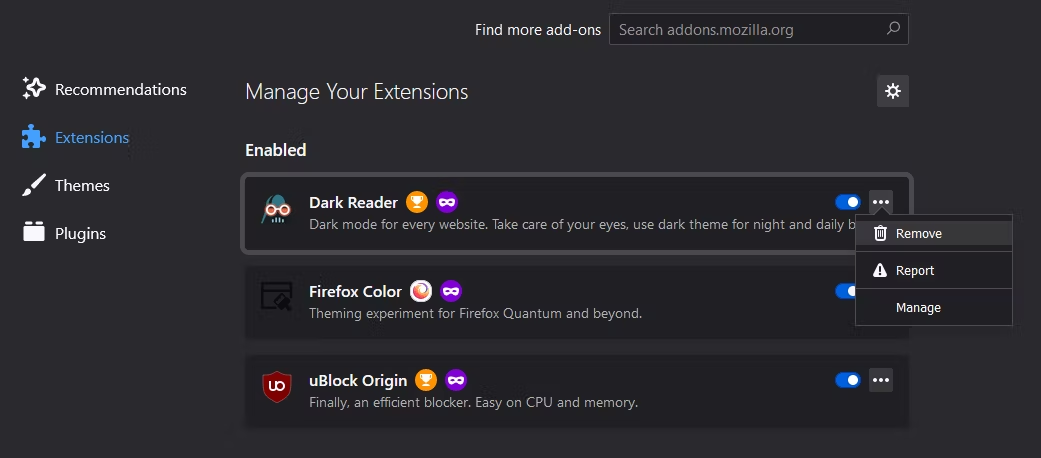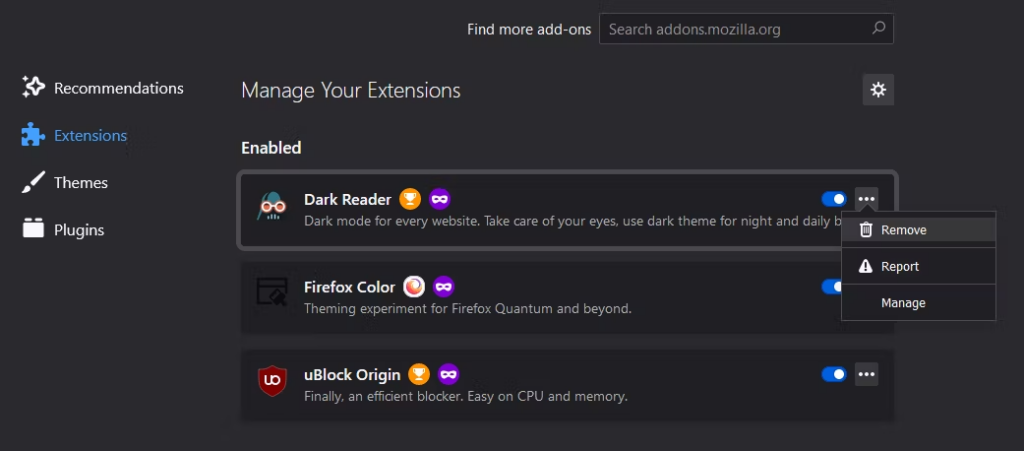 You can also view the Plugins tab in this menu. Though modern web doesn't rely on plugins as much as before, there is a chance to your installed plugins can be culprit. Click on the three-dot button on a plugin and select Ask to Activate or Never Activate option. Then they will prevent from running on its own.

Third-party themes can be the reason for Firefox performance issues. Open Themes tab and add a default Firefox theme. If Safe Mode wouldn't be able to speed up Firefox, the problem must be with Firefox tabs. Install the Auto Tab Discard extension and it will unload the resources used by an inactive tab automatically. Try to limit the number of tabs you are opening. If you wanna read those tabs later or remember them, you can use browser bookmarks instead.
3. Firefox Is Slow Even With High-End Hardware
Even though you are using a machine with solid hardware, Firefox can be slower. As a solution you can open the hood and tweak how the Firefox uses computer hardware. Open Firefox menu and go to Options. Then go to General tab > Performance. Uncheck the box of Use recommended performance settings and check the box of Use hardware acceleration when available. From now on, browser will use graphics card instead of the processor. If you have suitable hardware, this setting will provide better performance for everything you do.
You can change the Content Process Limit to speed up Firefox. The default value is 8. But if your running low memory left, make this value lower. If you have got more ROM, make this value higher.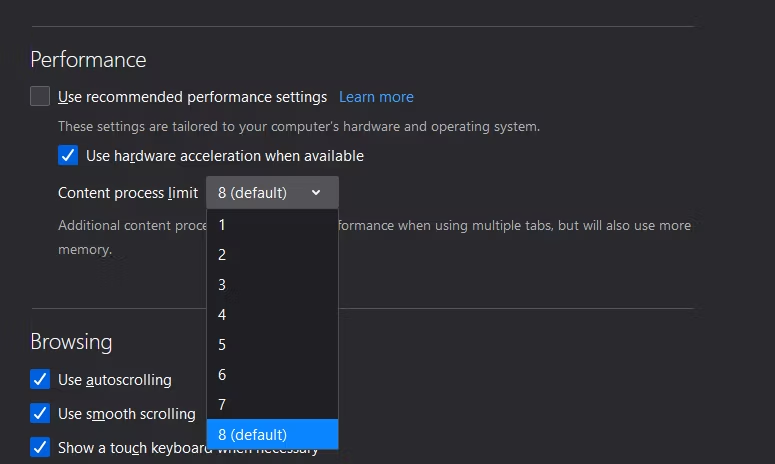 You can clear your computer, if system resources still causing issues. If there are many programs running in the background and no disk space for the browser to create temporary files, they can cause issues too. If your system has got malware, it also will slow down your browser .
4. Change Firefox Settings or Download Speed Tweaks
You can speed up Firefox by changing few parameters in Firefox's about:config page. If you want to do it yourself, you can get help from Speed Tweaks extension. After installed Speed Tweaks, discarding inactive tabs and enable pre-resolving DNS entries. This extension will make few changes in configuration setting. But it doesn't change all of them.
5. When All Else Fails, Refresh Firefox
If any of above methods wouldn't work, you need to try to reset Firefox. Then you can start fresh with a clean copy and speed up Firefox also. You can return to the factory default state and remove all of your changes like add-ons and customizations, using one click option. It will restore browser settings to their defaults also. Follow below steps to reset Firefox.
Open the menu which is at the top-right. Then go to Help > Troubleshooting Information.
Click Refresh Firefox in the top-right box named Give Firefox a tune up.
A dialog box will be shown and select Refresh Firefox again and confirm.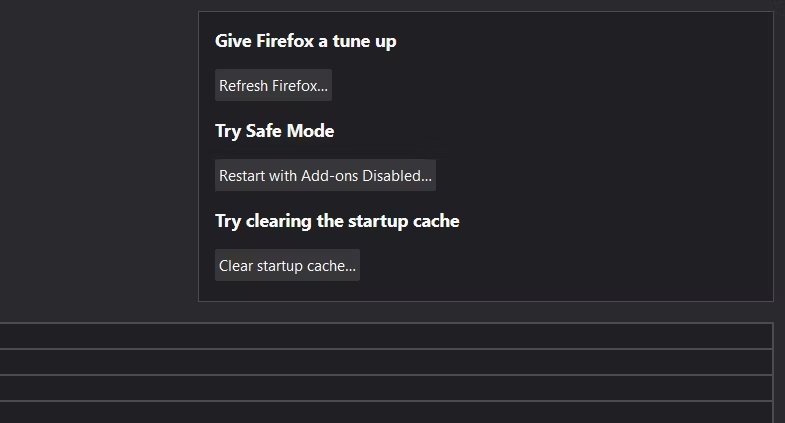 Firefox will be closed and Restart will start within few seconds. All the settings and performance options will be back to its default. But it will save all your personal information like passwords, cookies, history, auto-fill information, bookmarks and your dictionary. It's just like a new Firefox with all your personal data.
6. Remove Third-Party Antivirus Apps
Former Firefox developer Robert O'Callahan said in a post of his blog, Eyes Above The Waves, antivirus can slow down Firefox. He mentioned as a solution disabling all antivirus programs exclude Microsoft Defender. You can get some idea how antivirus software affect performance and slow down updates by reading his post. Most of third-party antivirus apps aren't worthy to use. You can use Microsoft Defender instead. It won't nag you and won't make you to upgrade that doesn't need, like other antivirus software.
When Firefox Is Too Slow, Get Fast
Now you already know what are the reasons for slow down Firefox. Firstly you need to identify the cause of problem and then you can go for a solution and speed up Firefox.
Related Posts:
Frequently Asked Questions
Why is Firefox so much slower than Chrome?
Normally Firefox is slower than Chrome. What happens is that Chrome renders the web page piece by piece. Firefox takes the same amount of time but eventually only shows the entire page. That makes Firefox slower than Chrome.
What is the fastest browser?
Google Chrome is the fastest web browser. You can get it to a Windows machine. It beat the competition in three out of four tests, and Microsoft's latest Edge browser is now based on Chromium. Chrome is the fastest and also it has a long and large library.
Is Firefox still a good browser?
Firefox is a good browser for everyone. It is a secure web browser. And also it is one of best browser for pc. It called as Mozilla Firefox or simply Firefox. It has ranked in the third place of global market share of browsers. Sometimes Firefox is known to be more secure and faster browser than the most popular and widely used PC Browser, Chrome.