Flash Stock Firmware on Samsung Phone Using Odin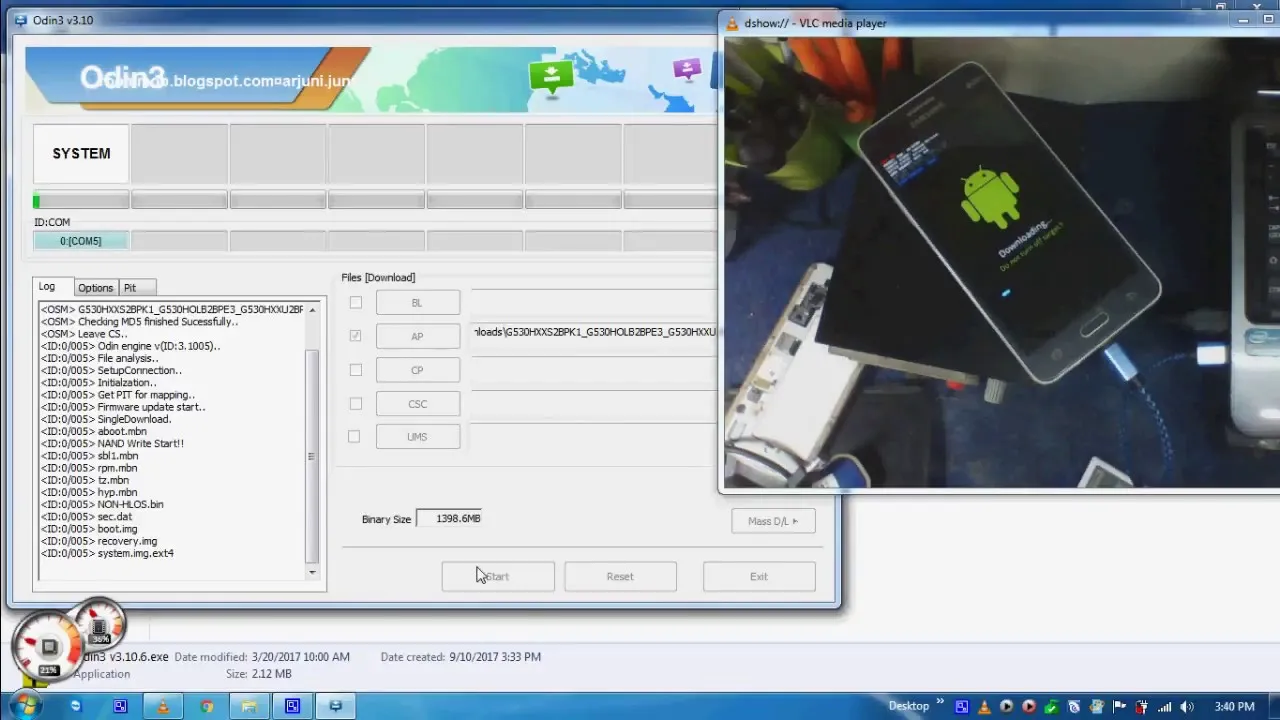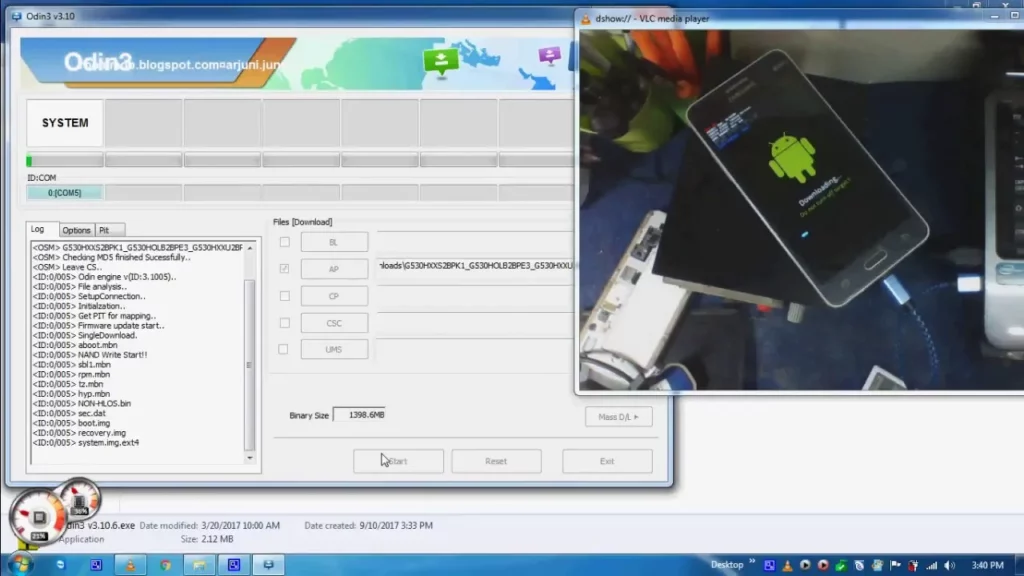 Samsung smart phones have major place in the smart phone market. Samsung is based in Google's Android Operating system and there are many tweaks you can try also. They have introduced many customization opportunities. if you are using Android's open-source nature, there are lot of opportunities you can try.
When we mentioned customization opportunities, you might think about downloading numerous icon packs or custom launchers. But truth is there are more than them. You can install an-altogether new ROM on your device. And also replace your stock recovery with TWRP or gain administrative privileges in the root form.
But the problem is when we adding new features to the device, there are some risks come along with it. The most common issues are Bootloop or a bricked device. What you can do for it? The answer is flashing the stock firmware.
Samsung has introduced Odin tool, also called Odin Downloader or Odin Flash Tool. Using this tool you can flash the latest software update on your Samsung device manually. If there are some flashing tools for general users, Odin is not introduced for them. Odin was used to flash or install stock firmware on any of their devices by the Samsung developers. But it got leaked over the internet.
If the firmware is in .tar or .tar.md5 format, you can use Odin for flash stock firmware on Samsung phones or any Samsung devices. Trough this article, you can know how to install Odin and instructions for using it. Keep reading to get some ideas about flash stock firmware on Samsung.
What is a Stock Firmware
Stock Firmware is the official ROM which the manufacture ships into your device. It is based on Android. But it is optimized by the OEMs. They add new features, customize the existing features, and make some changes.
Most important thing is, all the devices from a particular smartphone manufacturer have near identical customized Android OS. As an example, Samsung, all the devices ship with the latest OneUI operating system. It does not matter whether they are the entry-level device or its flagship. The underlying UI and stock options are same in both. But the offering and features can be different.
Samsung shipped their devices with Samsung Experience UX that followed by TouchWiz in before. But now it comes with OneUI for Android 9 devices and OneUI 2.0 for Android 10 devices. Now take a look at the advantages of the stock firmware.
Advantages of Stock Firmware
Someone might like to tweak their device's OS when others do not. Users have to meet one requirement in here. It is an unlocked bootloader. There are many things to do like installing custom ROMs. But you have to face some risks when doing it. Someone can end up bricking their devices. In a such situation you can try flash the stock firmware and bring it back to the work.
Some custom ROMs are stable and free of bugs, while others are not. If they can not match the stability of the stock firmware, but they offer more features than stock firmware. Stock firmware are safe to use because they are officially released by the device manufacturer. If some errors or bugs happen, they will fix them quickly by giving updates. It is a good advantage when using it.
Before download stock firmware on Samsung
Before download stock firmware, you need to do a complete backup of your Samsung phone. And then install the suitable Samsung USB drivers. You need to make sure to charge your device to at least 60%. When downloading the Odin make sure to download the latest version. Then enable USB Debugging. For enable USB Debugging, go to the Settings> Developer options > allow USB Debugging .
Next enter your Galaxy device into the Download mode. If your phone is a new model, you can do it by pressing Volume Down button, Home button and Power button together. If your phone is a old model, you can do it by pressing Volume Down button, Bixby button and Power button together.
Download Stock Firmware on Samsung
Samsung Firmware Downloader Tool

Download frija tool
Download Samfirm tool

Samsung Firmware Downloader Site:

Updato
Sammobile Firmware Arcive
Samsung Firmware dot Org
Samfrew
Install Stock Firmware on Samsung device using Odin
Download the suitable Galaxy stock firmware for your Samsung phone.
Then extract the contents of the firmware zip file.
The extracted files should be in ".tar" or ".tar.md5" format.
Now download and extract the Odin tool and extract it on your PC.
Open the extracted folder and then click on the Odin.exe file.
6. Connect your Galaxy device to the PC when it is in Download Mode.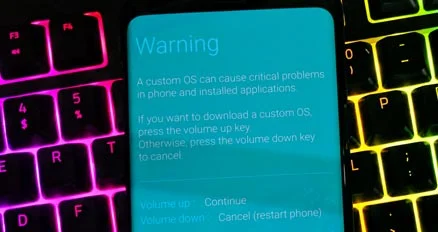 7.The CO port will light up on Odin when you connect your phone.
8. Then click on the AP button and select the firmware.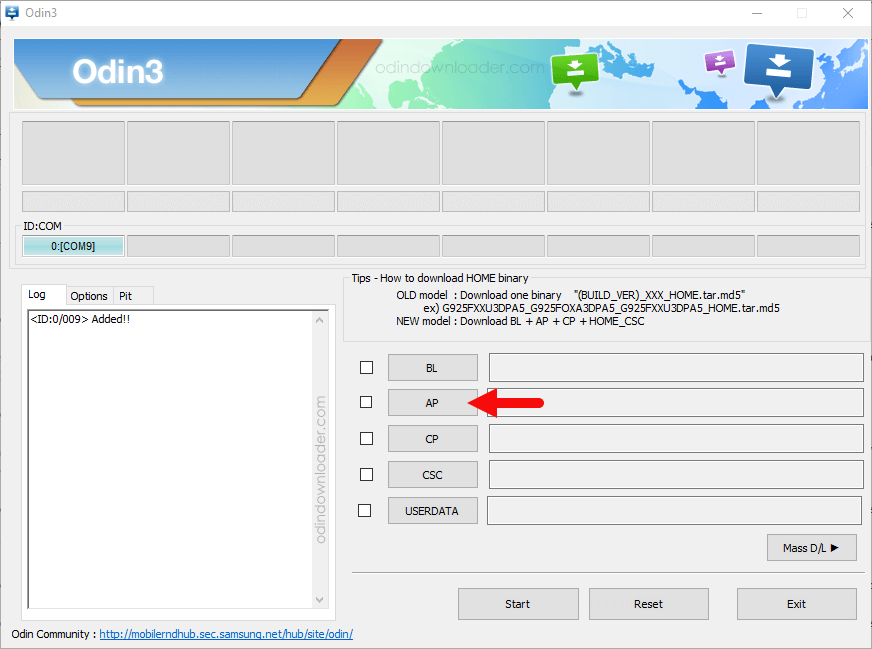 9. Next do the same for BL, CP, and CSC.
10. The regular CSC file will erase the entire data. Select the HOME CSC file to save the data.
11. Next select Auto Reboot and F.Reset Time in the Options tab.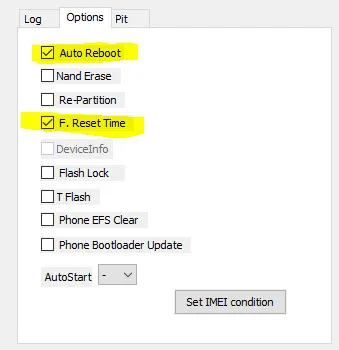 12. Then click on the Start button to install the firmware on your Samsung device.
13. All are done. After the installation is completed, you would be able to see a PASS message.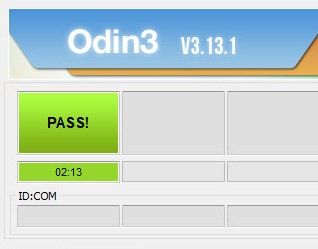 Troubleshooting
When installing the stock firmware on Samsung using the Odin tool, you might have some issues. Some issues and solutions for them are given below. If you have got this issues, you can fix them by using below solutions.
Device not detected by Odin: You need to disable Kies and then make sure that you have installed the correct Samsung USB Drivers on your phone.
FAIL messages on Odin: You need to download the correct Odin tool. And also need to use the correct USB drivers. Then shut down the device and follow from step 1.
The device enters boot loop: To fix this issue you need to boot into the stock recovery and factory reset your device. For it, hold the Volume Up button, Home/Bixby button and Power key together for a few seconds. There will be a no command screen, keep holding the Power button and press the Volume Up key once. Next select the Wipe data / factory reset button and then confirm.
If you are going to flash stock firmware on Samsung using Odin tool, this guide will lead you. It will also help you to fix issues if you have got any.
Frequently Asked Questions
Can I flash Samsung stock ROM with TWRP?
You can flash using TWRP. But only Custom ROM. If you have created a backup oft the Stock ROM before you flashed the Custom ROM, then you can restore it. According to the Magendaz you can flash firmware, custom ROM and kernel with using TWRP.
how to install custom ROM using TWRP recovery?
For this you need to go back to the TWRP main menu, then choose the install and then select the custom ROM. Zip file which you transferred to your device in above step. After selecting that zip file select Swipe to confirm flash that is in bottom of the screen. Now custom ROM installation process will be begun.
Does Odin root your phone?
Odin is a one click application. It also works on a basis of a one click mechanism system. It will root your android phone automatically. There will be instructions on the screen and all you need to do is follow them. Among other tools, Odin takes main place. Because its not like other tools and also it works completely different on all mobile models.